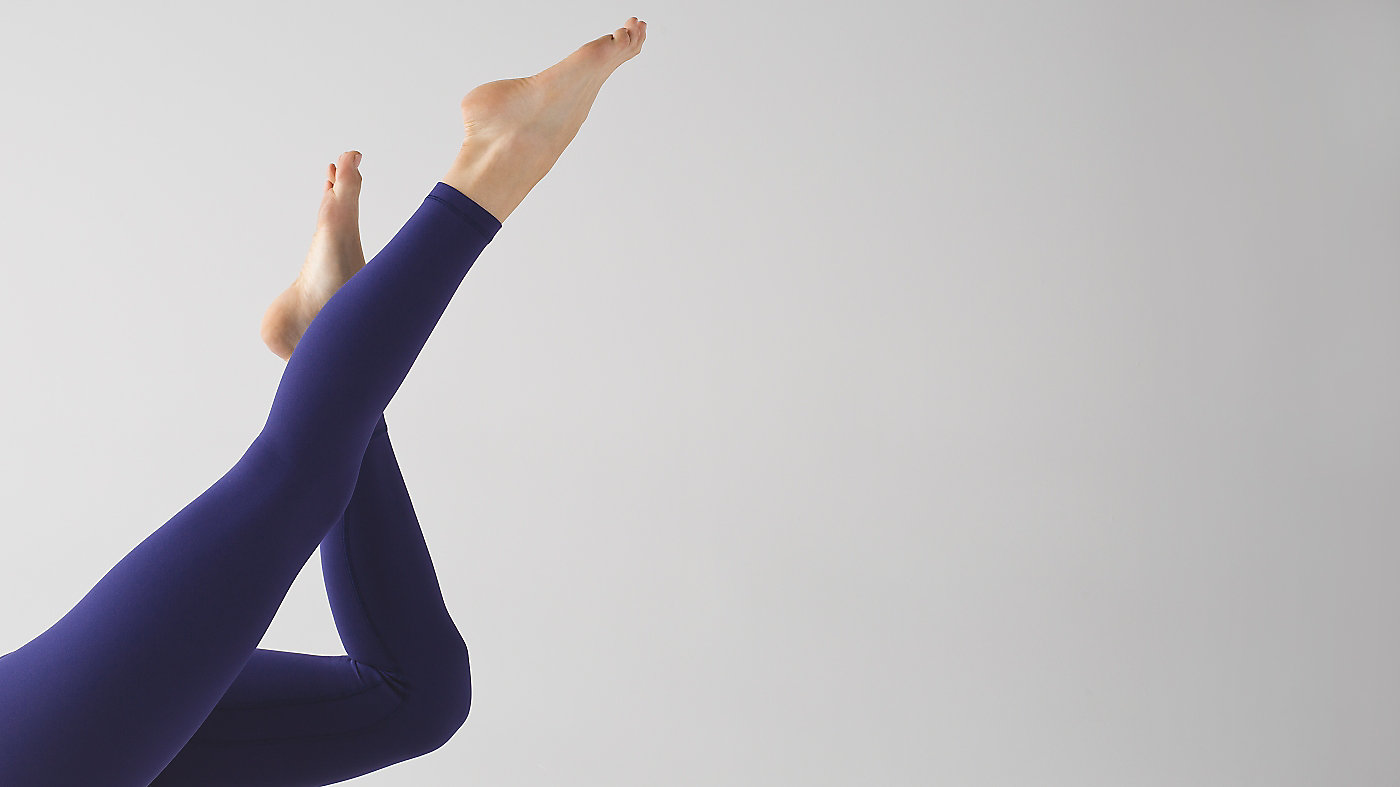 ---
Comfortable waistband
Lies flat against your skin and won't dig in
---
high-rise
Keeps you feeling covered and secure
---
ankle length
7/8 length stays out of your way
---
naked sensation
Engineered to feel like your go-to, lightweight, second-skin layer—you'll forget you're wearing this next-to-nothing sensation as you move
---
HIDDEN CARD POCKET
Hidden pocket in waistband holds your key or card

Align Pant II
is rated out of
5
by
26
.
Rated

1

out of

5
by
Keanna
from
Disappointed with quality -
I bought these pants on June 5th. I just pulled my pants off the drying rack and they are starting to pile around the hips, ankles and crotch. ***This was only the second wash! I'm very disappointed with this and thought the price does not match the product. Not the same Lululemon I used to buy when I lived in Canada. I did follow the washing instructions.
Date published: 2017-06-23
Rated

4

out of

5
by
chickpea
from
My favourite feel and fabric but did not last.
Absolutely love the feel of these pants, beautiful fabric, they are lightweight, perfect waist band and super comfortable for yoga practice. I wish to purchase the gorgeous navy colour but concerned they will not last...the stitching became undone on mine for no reason : ( All of my other Lululemon pants are perfect but I experienced pilling with these ones and they started to fall apart at the seams. Anyone have better look with a more recent purchase of these pants? Thank you x
Date published: 2017-06-18
Rated

2

out of

5
by
JessicaKate92
from
Loved them but disappointing quality
I loved these pants the first couple of times I wore them. However after this I noticed a lot of the seams were coming undone. As well as this they have started pilling in a number of places which I haven't experienced in any other product from Lululemon. Hard to spend over $100 on pants that start falling apart within a month.
Date published: 2017-06-01
Rated

5

out of

5
by
DarcyH
from
COMFORTABLE, EASY, LIFE CHANGING.
This pair is so dam comfy around the belly button area and you instantly feel compacted and secure (but nothing too over the top tight). These are seriously smooth and insane! Would buy a million pairs if I could.
Date published: 2017-05-25
Rated

2

out of

5
by
Lululover16
from
Loved them but disappointed
Lulu is always my go to shop for all my exercise gear and I have always found everything great quality. When I got these pants I was absolutely in love with them and they were perfect for Pilates (half the girls at the studio wear these pants) but after a wash I noticed a small hole appearing on the side of the leg, obviously when you put the pants on the hole is noticeable so I can not wear these pants any longer which is super disappointing. This was only after one month and I'm also very careful and particular with how I wash all my exercise clothes. I want another pair but i can't risk spending 120 for the same thing to happen again! :(
Date published: 2017-05-24
Rated

2

out of

5
by
marisa
from
My favorite, but they do NOT last :(
From the second I tried these pants on I was in love. I bought 3 pairs in store. After only a few months, they have started balling up (pilling) and it is so disappointing. I love all of my sports bras and tops from Lululemon, but I guess these pants were really just too good to be true. I sadly would not recommend these since they are not long lasting, especially if you wear them a few times a week for yoga - they just begin falling apart! They really are amazing for the first few weeks though, but I cannot justify spending over $100 on something that wont last but just a few weeks.
Date published: 2017-05-21
Rated

4

out of

5
by
mollyida
from
Absolute favourite tights but disappointing quality/durability
These are without a doubt the most comfortable tights I have ever worn, I own three pairs and are my go to for just about everything, naked feel, and high rise fit. What does disappoint me however is the quality, having spent $119 and following all care instructions I would not have expected pilling from these. Now the pilling I had learned to deal with, however I recently went to put on a pair of mine and as I was pulling them up my finger ripped straight through them... something very unexpected and disappointing! When it comes to fit, feel, and look, I can not fault these pants, however the price is slightly high for fabric that pills very quickly, and apparently also rips with very minor tension.
Date published: 2017-05-13
Rated

5

out of

5
by
RByogi
from
You really do feel naked!
The Align are my new go-to, for yoga, gym classes, walking, every day :) I love the naked feel! I love the 7/8 length - which is full length on me (with Wonder Unders in the past i've had to roll up at the bottom), i love the high waist - they are great for yoga and i don't feel like i'm always having to pull them up - they stay there (and hold everything in! but in a comfortable way) Had to go down a size in these for a good fit - something to note. Did have an issue with a pair with seam at the ankle coming undone - but went into a store and they replaced them for me on the spot. So naked in fact that on a chilly day with a breeze you may think that you forgot to put them on! Love the colours - have them in black, navy and a grape purple which i love!
Date published: 2017-05-05
Rated

3

out of

5
by
Georgia
from
Nice but disappointed
When I first purchased the align pant I thought they were fabulous! So flattering and comfortable and exactly how they were described. However, I am very disappointed that after only a few washes (in a wash bag on cold) and extremely good care, they have started to pill and go all bobbly as well as bits of stitching have come undone. $119 is a fair amount to spend on tights that do not last more than a couple months.
Date published: 2017-05-01
Rated

1

out of

5
by
suzan
from
BRING BACK ORIGINAL ALIGN PANT
I have been purchasing the align pant for over 2 years and i must say the material of the pant is starting to disappoint me. When i first purchased them (they had 2 lines around the hips instead of 1) the material was BEYOND AMAZING and they felt NAKED!! Now they feel like a cheaper version and thicker, not light or comfy. For the money I'm paying for them i would love for lulu to BRINF BACK THE ORIGINAL ALIGN PANT, until then i will not purchase them..
Date published: 2017-04-18