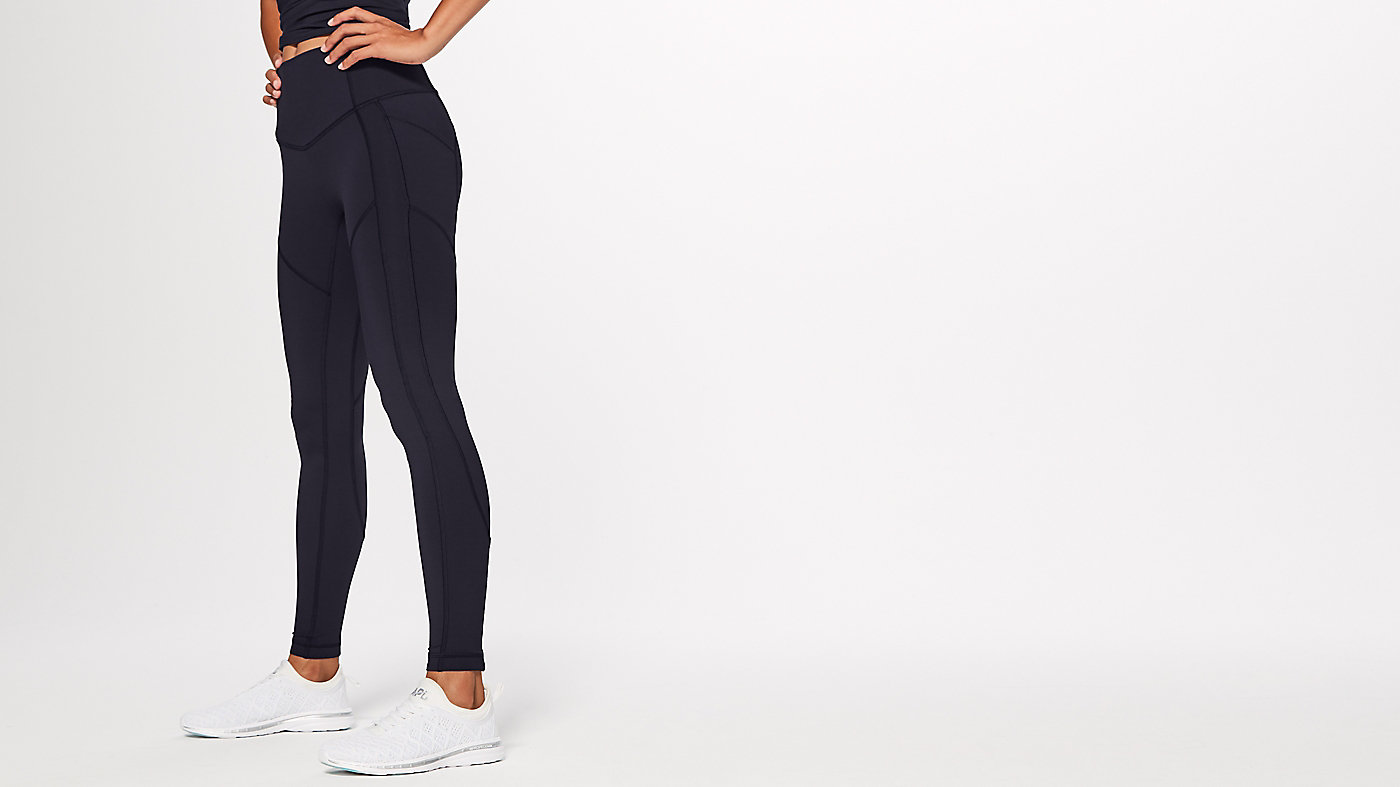 All The Right Places Pant II
is rated out of
5
by
12
.
Rated

3

out of

5
by
monsquito
from
seams are coming undone!
I love the pants - they are super comfy but .... the seams down my outer leg are coming undone!. I also may have bought a size too big, as they fall down when I run so I am forever pulling them up. I usually take a size 10 AUS, and am quite curvy (6 in Lululemon) but definitely need to go one down. The quality of the material and the comfort of the pants (other than the seams) is awesome though.
Date published: 2017-08-01
Rated

3

out of

5
by
Chrissy285
from
Great for tall girls
After a friend recommended these pants, I gave them a go. First try and I was in love.. but the love didn't last long. Whilst they are super comfortable (and for us tall girls the length in the leg is such a bonus!) I find not long after my workout which is weights/HIIT based I am constantly pulling them up in the legs even after I was told the more you sweat the more they stick. Thought.. maybe it was a bad batch (black) so thought I'd buy another pair in the navy - and the same thing has happened. I made sure I followed washing instructions to a tee and it still doesn't seem to have made a difference. For the price they are - absolutely gutted.
Date published: 2017-08-01
Rated

2

out of

5
by
Yass
from
Devastatingly Sweaty
I bought a pair of these in the most incredible navy blue (and the crop version in black) and they are the most comfortable, beautifully designed pants I own...they are also the most unforgiving and mortifying if I forget to pair them with a loooooong T or singlet. They have zero sweat-wicking ability and from the minute I step into the gym I suffer from mortifying sweat patches. Worst of all it takes forever to dry and the black crops dry uneven so even when it is dry, it's still patchy. Please do not underestimate my review. I appreciate that I am a sweaty gym-goer and that others are fortunate enough not to be - but these provide zero dignity for any kind of workout. Heart the pockets though.
Date published: 2017-05-30
Rated

5

out of

5
by
Ashlee
from
No front-bum seam!
These are the nicest tights to wear. They hug in all the right places, and give your lady parts plenty of room to breathe whilst getting down dawwwwg! Plenty of stretch, plenty of support, nice and thick, and yummy all round everywhere! Definitely my faves, ordering another pair as we speak ;)
Date published: 2017-05-29
Rated

3

out of

5
by
BBalance
from
Thighs and running
I bought a pair of All the Right Places leggings a few months ago - six weeks before a 10km charity run. I wear size 8 (Australian 12). They feel great on. I'm a little knock-kneed. My thighs touch when I run. Around a month ago I noticed that there are two 50-cent sized 'wear' patches (and a few holes) on the inner thighs. This hasn't happened to any of my other leggings (some I've had for years). It took me a while to realise that the wear is from the cross-seams rubbing. So if you're a runner and your thighs touch, then these aren't the leggings for you. Although still good for weights, spin, etc.
Date published: 2016-09-12
Rated

5

out of

5
by
Westie
from
Lovin these pants
First pair of Lululemon and am loving these pants. As promised they hug you in all the right places, particularly great around the tummy, havent had any probs with them slipping down during classes which is great. great customer assistance with buying these, was encouraged to buy a size down which was a great tip and would never have tried a smaller size without their advice. Have washed these a couple of times now so keen to see how they wear, but super happy to date and keen to buy another pair.
Date published: 2016-08-28
Rated

1

out of

5
by
LuluLover93
from
Glad it's not just me!
Fell in love with my All The Right Places, when they used to fit in all the right places..... After only a few months they have really started to slip, slide and sag which becomes super frustrating mid workout and I can no longer wear them even for a light jog! Must just be a bad batch so to speak but these have left me feeling a little let down.
Date published: 2016-08-23
Rated

3

out of

5
by
BobbiB
from
great first look but don't stay in shape
When trying on this pants in the shop I really loved them. I got them in the full length and they fit great. But while working out in the gym they just don't stay in shape and I have to pull them up all the time. They do have a waistband but sill doesn't fix the problem. I do have them now for a couple of weeks and they seam to loose shape even more... Quiet disappointed and would have expected more. These are my first Lululemon pants!!
Date published: 2016-08-03
Rated

3

out of

5
by
VHS22
from
Fabulous at first
Loved loved loved these when I first got them - the cut is so flattering and they feel wonderful on. However like a couple of other reviewers, after a wash or two they seem to get larger. I don't know whether I should have bought a size down? I got 10s, which is the same size as my other lululemon pants - but these ones just don't want to stay up. Spent a large portion of my 10 km hike yesterday pulling them up (not my most graceful look). Such a shame, as the cut is so flattering. For others, maybe consider a size down - or leave them for less strenuous activities?
Date published: 2016-07-31
Rated

3

out of

5
by
meaf
from
Great Initial Fit, Dissapointed After One Wear
I bought the cropped version of these, but can't find them on the site anywhere. I tried on the long versions, but they were wayyyy to long (and I'm not a tall girl). I initially liked these for the high waist fit. They fit really well when I tried them on (the staff member fit me to the size I purchased). I've had no issues with pilling since my purchase, however I have had issues with stretch. The tights themselves are completely opaque, which is great! However, I have had some major elasticity issues. Since the first wear these pants have become a frustrating fit. I keep having to shimmie them up my legs all the way from the bottom cuffs, and pull the top band up to where it should be. This was without even washing them. Since then, I have washed these three times in cold water on gentle in a garment bag. It's not a good look having to hike up your pants every 5 minutes, and it can get frustrating during a gym session. If you'd not about this life, I'd suggest looking at another pair of tights. It would be fantastic if these were fit with a drawstring (it would be great if all the tights on offer were as this would give you some flexibility with sizing). Again, the quality of these are amazing, and they look great while on, but the fit is off.
Date published: 2016-07-14