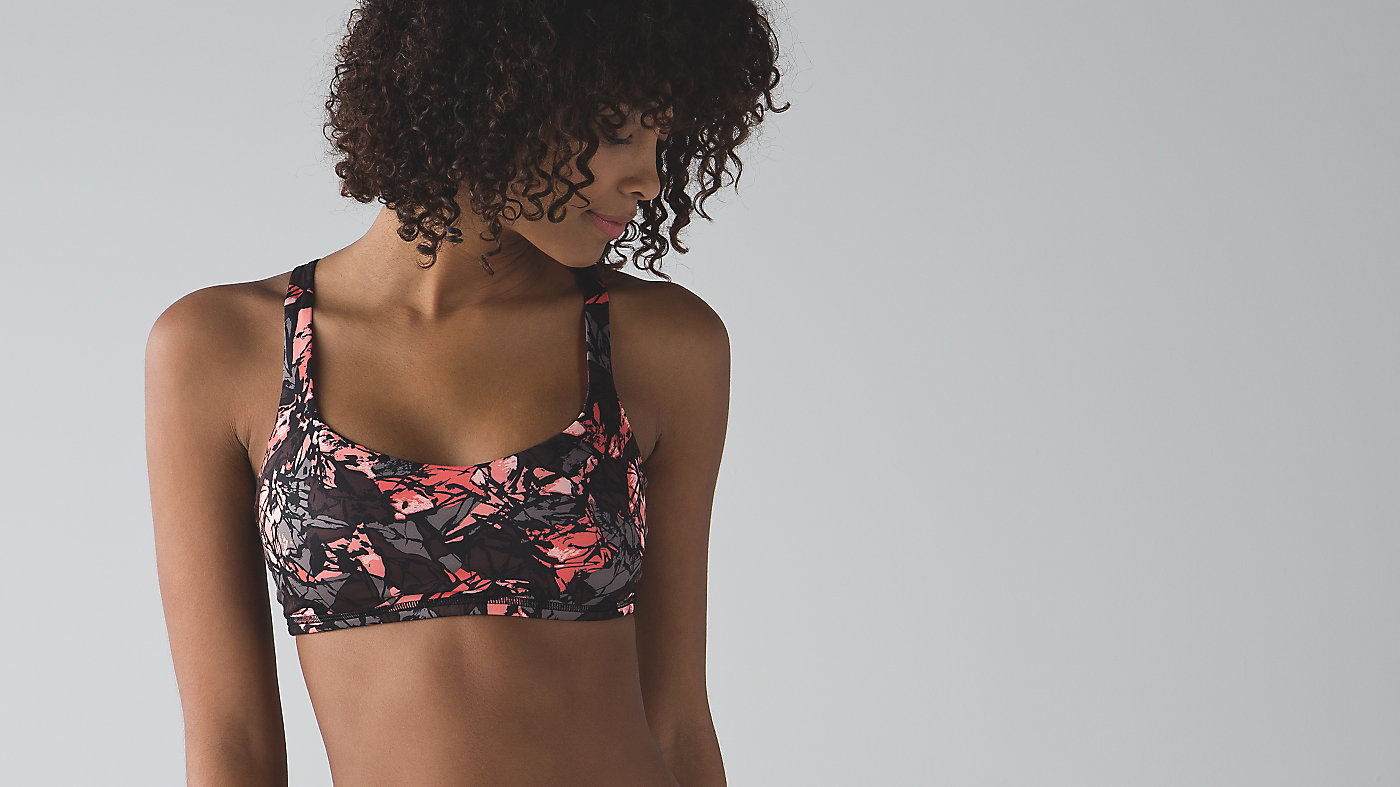 ---
lycra®
Added Lycra® fibre for stretch and shape retention
---
Coverage
Pockets for optional, removable cups
---
light support
Intended to provide light support for an A/B cup

Free To Be Bra
is rated out of
5
by
23
.
Rated

5

out of

5
by
Jenenna
from
So Comfy
I love this bra. It is comfy, the straps don't sit too close to your neck, which means they don't become uncomfortable. I love that it comes in multiple colours and that I can wear this bra to work, and yoga or running afterwards. Also great to wear hiking.
Date published: 2017-06-30
Rated

5

out of

5
by
Isabella
from
Best bra ever
Favourite lululemon bra ever! I own lots and wear them almost everyday for everything- running, workouts, you name it! Would highly recommend.
Date published: 2017-03-18
Rated

5

out of

5
by
Luie
from
Exercise staple
This is my favourite Lulu bra. I love the pretty patterns and the way the straps gently roll on your shoulders when doing yoga. Every bra should feel this comfortable. Love the thin padding but putting them back in after laundry is tricky. Would be great if they were built into the actual bra. Keep the gorgeous colours and patterns coming.
Date published: 2016-05-06
Rated

4

out of

5
by
java
from
almost perfect
very comfortable light-med support bra for girls with smaller busts. my only con is that as a rock climber, I have recently developed a bit more muscle in the lat region and find the band width uncomfortable, i find i only wear the bra for a short time at home, and am yet to feel comfortable enough to wear it to an actual climbing session. Definitely would benefit from a wider band, to prevent uncomfortable cutting in. I love the flow y bra, and definitely think the flow y with the lighter support provided in the free to be would be the ultimate sports bra! awesome bra otherwise!
Date published: 2016-05-03
Rated

5

out of

5
by
Gemma
from
Another one of my favourite lulu bras. So many goegeous colours to choose from. It you are looking for a supportive bra this is r the bra for you. I wouldn't run in it as its a little lower at the front than some bras and isn't as supportive. But perfect for yoga or a walk. Really comfortable bra and fits pretty much true to size. For bigger busted girls I would maybe go up a size for extra coverage in the front. (R&D member)
Date published: 2015-06-30
Rated

5

out of

5
by
Ange
from
simply the best bra
I owned 3 of free to be bras. The 3rd one just arrived today and I am very happy with the hassle-free on line shopping process and super quick delivery. This bra fits me well and my absolute favourite bra from lulu lemon. Vouching for what the other reviewer says, as a small chested girl, this bra really supports the "girls" well without flattening them up :) This bra provides great support through any WODs (especially those ones with double unders) :) Thanks lulu lemon!
Date published: 2015-01-06
Rated

5

out of

5
by
pish
from
Cute and comfy
I have two of these bras both in size 6. I am generally a 4-6 up top in lulu, a 4 normally in the crops but sized up in order to better accommodate my bust (32C/34B). This bra is so cute and comfortable on. It is suitable for all activities that aren't high impact. It's not super tight fitting and is very lightweight and therefore I feel like I can breathe in it. Easy to get on and off which is great after a sweaty session where your clothes stick to you or if you have DOMS and you can't lift your arms above your head. I find it looks a lot better and doesn't tend to ride up at the back if the inserts are in, even though the inserts move when putting the bra on and then require adjustment so you don't look lumpy. This is kind of annoying and as someone suggested it'd be a good idea for the inserts to be anchored with a couple of stitches. The wide and constantly updated range of colours means that everyone should be able to find at least one colour they like. It is a little low cut at the front which looks good when upright but beware if you're bending over as you may then need to readjust.
Date published: 2014-09-11
Rated

4

out of

5
by
chickadee
from
cute straps
I like the cute straps on this bra, however I have trouble with sizing. Size 4 or 6 the back of the bra seems to ride up a bit. 4 seems more supportive (even though I'm only an A cup) but looks a bit tighter under the arms. i don't like the lower cut front - I prefer a little bit higher for better coverage and for a little bit peeking out from a cool racerback at the front. Good for yoga, but not enough support for anything requiring jumping around.
Date published: 2014-02-01
Rated

5

out of

5
by
RunAndYogaGirl
from
Great!
This lil bra is awesome. It does what the description says, is super comfy and looks great. I also like it cos though it's a bit low cut at the front, it doesn't create a double boob when wearing a top that is cut higher than the bra. There is def not enough support for me to go running in this bra but under a tank at yoga it's awesome. Did I mention comfy? Cos it's sooooo comfy! I bought this online and usually wear a 36B so got a size 8 and it's just right.
Date published: 2014-01-14
Rated

5

out of

5
by
Sunshine
from
Snazzy bra
Excellent fit, and looks great with the matching leggings
Date published: 2014-01-09