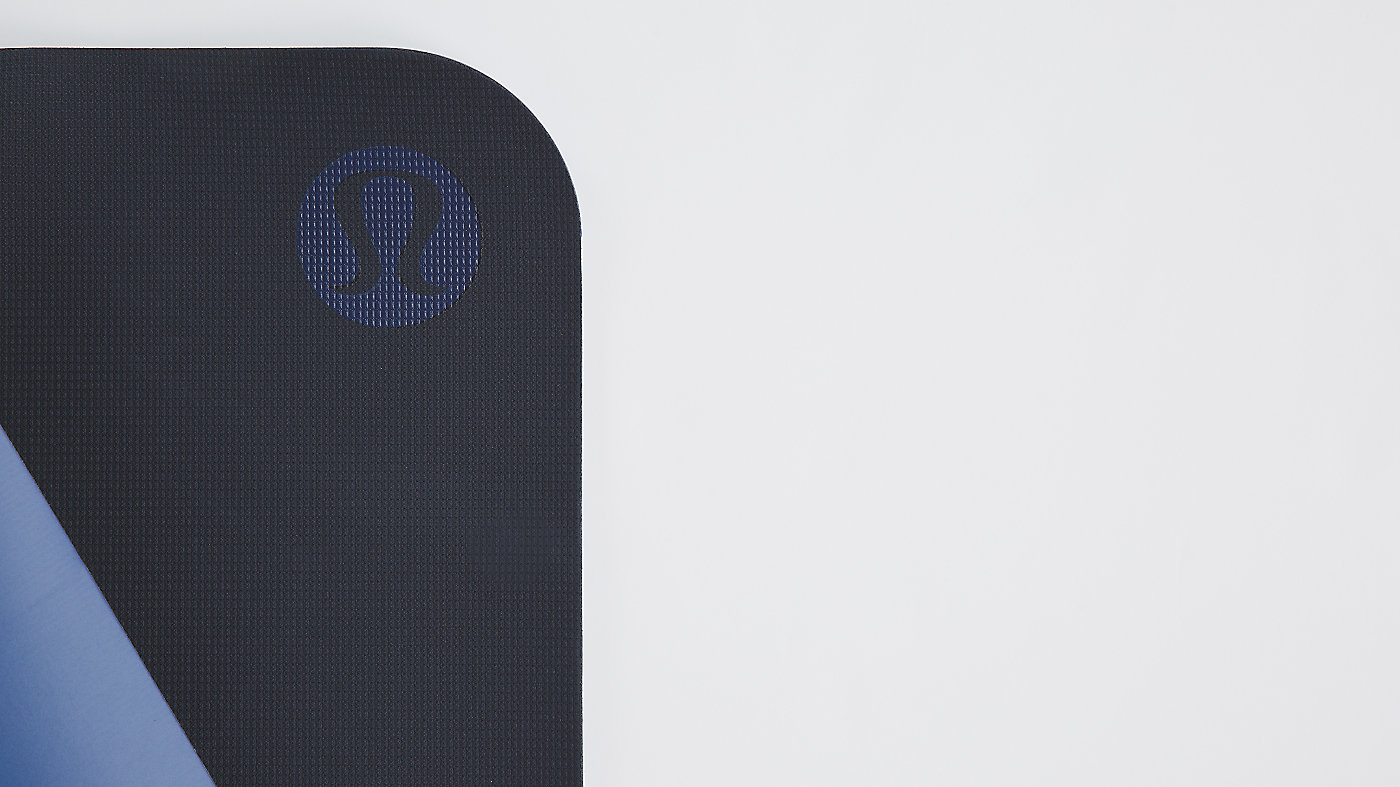 ---
CUSHIONING AND GRIP
Natural rubber base gives you cushioning and grip in low-sweat classes
---
antimicrobial additive
Helps prevent bacteria, mold, and fungi
---
CARE INSTRUCTIONS
Clean this mat after practice with warm, soapy water and hang it to dry
---
Air it Out
Natural rubber has a slight smell that fades over time
---
---
DIMENSIONS
66cm x 180cm (26" x 71"), 5mm (0.19")

The Reversible Mat 5mm
is rated out of
5
by
26
.
Rated

4

out of

5
by
Daysy
from
Thick and indecisive
Me, not the mat! I use this mat 3 times a week for both hot and hatha yoga and some Dylan Werner workouts in between. I am a naturally sweaty person so appreciate the extra grip, but find the smooth side almost doesn't grip to the floor enough - ie jumping into handstand or through to standing can be precarious on a lino floor! However, it's getting old and a little tired so will be looking to buy a new one - exactly the same, but in a new colour - pretty soon and I'm excited!
Date published: 2018-04-04
Rated

3

out of

5
by
amyc
from
Grippy but horrible wear and tear
Overall, this would be a great mat. It's good for heated classes, the mat's absorbent properties mean you never really slip unless you're sweating buckets! However my mat is a solid blue, and within three uses, it was scuffed, scratched and dented, and looked at least 2 years old. Durability-wise, it's now been 9 months and there are a few chunks coming off my mat in random spots. I practice 2-4 times a week, so definitely would've expected a much longer lifespan. Another thing to note - I do heated yoga, and one thing no one mentions is that any water/sweat shows immediately and incredibly obviously to the point where it's embarrassing! When I brought it up with the girls instore, they brushed it off and said I shouldn't have bought a lighter colour, which was quite disappointing.
Date published: 2018-03-11
Rated

5

out of

5
by
ExpensiveHeart77
from
Yoga Mat for Beginners
I bought this mat as I am a beginner at yoga. I have researched for types of yoga mats before I decided to get these-this particular mat is highly recommended for beginners and those just discovering yoga. It does smell strong at first, so I needed to air it at least everyday whilst it was new-but also I am one of those crazy ones who are addicted to the smell of this type of rubber, hahaha! Also love that it is anti-mold and anti-bacterial.
Date published: 2018-02-18
Rated

5

out of

5
by
Pennyfromperth
from
Great for heated yoga
I bought this mat after going through numerous others - including a Manduka ProLite mat, and have found this one still the best for any heated form of yoga. The rubbery smell went away quite quickly, and I have found this mat excellent for grip (I found the Manduka mat difficult to practice on without a towel as it was so slippery) and there is no need to use a towel with this one. Another positive is the mat is also slightly lengthier and wider than other yoga mats. I always had a problem with my knees for mats less than 3mm, but this one is just right. The only negative would be it is easy to scratch and leave markings on the mat, especially if its used consistently. It's not so bad as it gives the mat a "worn in" look, and you feel like you're getting good value by using the mat often. I clean the mat using a mix of apple cider vinegar and water, which does the job fine. I'd avoid using any oil based mat cleaning sprays. Overall, I absolutely love mine and use it daily, and don't think I'd buy another yoga mat. Its well worth the investment for heated yoga practices!
Date published: 2018-01-20
Rated

4

out of

5
by
Sueb
from
Happy Yoga New Year
Decided to put my yoga practice as number one priority in 2018. Hinted hard to husband for a new yoga mat for Christmas and it has not disappointed. Rubber smell is strong...recommend airing as directed.
Date published: 2017-12-29
Rated

3

out of

5
by
India
from
Not very durable
Ive had this yoga mat for only 2 weeks- I love the design and look, however, it looks worn and used after only a few uses. It has scratches and dents on it! I would love it- only if it didn't wear so quickly
Date published: 2017-09-20
Rated

5

out of

5
by
Natalie
from
Love it
I've have my mat for a year and a half and have been using it 3-4 times a week and I love it. I sweat a lot and coun't get a grip on my old mat and when i have this mat, you counld totally tell the different. My practice improved. The mat has great grip and the 5mm. thickness give excellent support. It did scuff easily but not a big issue for me. When I use it to up to about 14-15 months, it did have some rubs off tiny bits on the mat and i thought it wil loss it's grip (I think most people stop using their mat at this point) but after rubbing off for a while it stops and the grip is still there : ) It may not be as grippy as new but the grip is still there and I would still prefer practicing on my lulu mat other than other mats. : ) By the way, I also bought a 3mm. mat, but it's too thin for me.
Date published: 2017-08-16
Rated

4

out of

5
by
boldface
from
Love this mat
I bought this mat at the recommendation of 3 other students and my teacher when doing teach training. I was nearly put off by some of the reviews but it is a fantastic mat, and I haven't had the trouble others are saying about worn areas or non-stick. It's tough, durable and I've used it intensely now for over a year. Would highly recommend to anyone. Also love the fact you have 2 different surfaces to choose from, depending on season and yoga style.
Date published: 2017-08-04
Rated

3

out of

5
by
Yogini58
from
Reversible mat 5mm
Beautiful looking mat, however very disappointed with lack of grip for Iyengar yoga, especially Downward Facing Dog, Trikonasana and some other standing poses, as well as the wooden blocks slipped in class. The mat was recommended by some other students in the class for its excellent grip qualities. I have been practicing Hatha yoga over 20 years and Iyengar yoga for 3 years.
Date published: 2017-02-12
Rated

3

out of

5
by
sophiel
from
Great.. At first
I bought this on Monday and it was great at first! Now it's Thursday and I've just noticed that a 50 cent sized area has rubbed off already where I put my foot. I've only used it three times for low-intensity yoga. It is the black and white dotted print, and the white dots have rubbed off which is disappointing. However, that said, it is very grippy and aside from that quality issue I do quite like it
Date published: 2017-01-25